MyFunds Instructions
Overview
---
MyFunds is an online tool which allows you to view an up-to-date budget report of the balances and expenses for your funds. It is a flexible tool with options to tailor how much information you want in your reports. MyFunds is an efficient method to view all of your funds at a glance, and also allows for drill down capabilities to view details on expenditures. The instructions below provide further guidance on how to access and read the basic budget report. There are several options available to access further details within the reports. Contact the Psychology Fund Manager for questions regarding your report.
MyFunds Access
---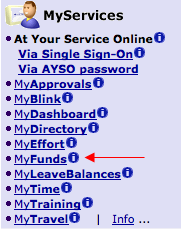 MyFunds is available online from http://blink.ucsd.edu in the right hand menu, or you can access directly athttp://myfunds.ucsd.edu.
You will be prompted to log in using your Single Sign Onaccount, which is typically your UCSD email address. If you do not have a log in, you follow the Self-Registration steps by clicking on "New User?".
MyFunds Report Profile - Fund Summary
---
On the first screen, you are provided with an overview of your funds: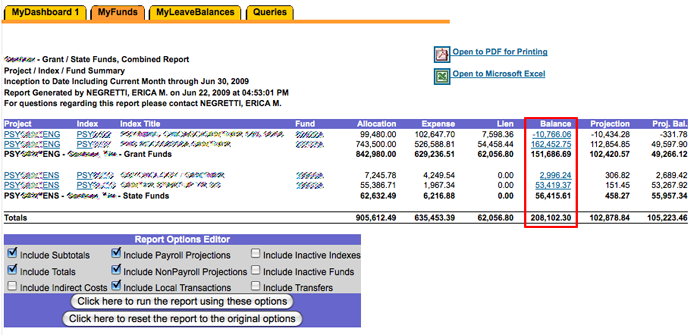 To access additional details for a particular fund, click on the blue underlined balance to drill down: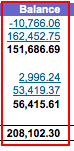 You will be given a breakdown of the fund's allocation, expenses and liens over each sub-account (i.e. expense type):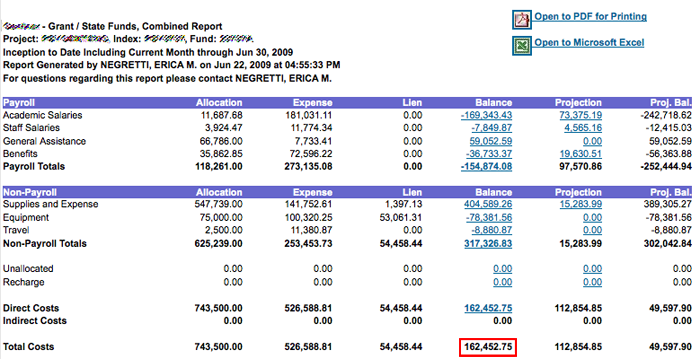 If the Fund Manager has included any special notes, these will appear in red at the top of the report.
The allocation column shows how much of the total direct costs amount has been allocated to each sub-account based on a budget. Funds that have not been allocated by a budget have most of the allocation in Supplies and Expenses by default (see below, Option: Allocations).
The expense column shows the total spending by each sub-account category from the beginning of the fund to the previous month (see below, Option: Current Month).
A lien is money that has been set aside for a specific purchase. Purchase orders, subcontracts, travel, and human subjects are the most common liens. A lien does not mean that the money has been spent, just that it is set up specifically to be spent. When the purchase is made, the lien will be lifted.
The balance column shows how much of each sub-account's allocation is still available. If a fund has not been budgeted and allocated to the sub-accounts, the balances for all categories except Supplies and Expenses will be negative (see below, Option: Allocations).
The total balance is in the bottom right-hand corner. Please note that this is the balance at the end of the previous month (see below, Option: Current Month).
Indirect costs do not appear on the budget reports. They are automatically accessed periodically as expenses occur. An appropriate portion of funds is set aside to cover these costs when a fund begins (see below, Options: Indirect Costs).
The Adobe and Excel buttons in the upper right corner allow you to print the report or open it in Excel. Printing from Adobe gives a nice clean print out. Opening the report in Excel carries over the figures, but it does not include any equations.
The Return to MyFunds Entry Page takes you to the initial MyFunds page. Use the back button to navigate through a report. Just use this link when completely exiting a report.
MyFunds Report Profile - Payroll Detail
---
This page allows you to see the breakdown of the salary paid by category only. Access to further salary information such as who was paid is restricted to those with permission to view payroll information.
Clicking on any months expense total will display payroll data by employee name, which is similar to the Distribution of Payroll Expense reports you may have received previously.
You may also view payroll projection data, which will refelct the information currently in the campus payroll system. Your fund manager can adjust these projections to more accurately reflect your plan.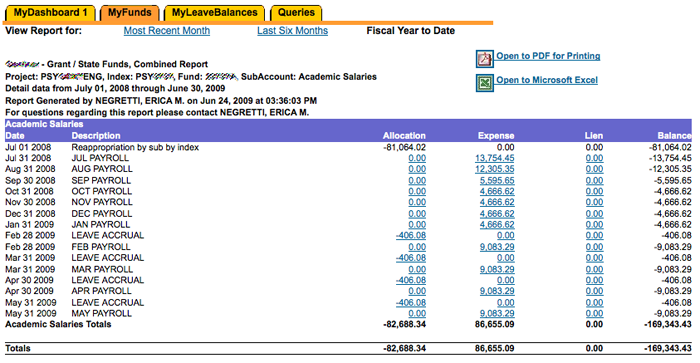 MyFunds Report Profile - Non-Payroll Detail
---
Clicking the balance for any Non-Payroll Total will give you:

Broken down over Supplies and Expense, Equipment and Travel, you can see the date and the source of all purchases for that month. The cost of the purchase is in the fourth column under expense. If a lien is set up, it will show in the fifth column before the purchase is made, then show as a negative after the purchase when the lien is lifted. If you want more details about a specific purchase, the fund manager has access to additional documents and information.
Clicking on projection totals for any expense type will display non-payroll projections broken down by account code. Your fund manager can adjust any account (expense type) to more accurately reflect your plans.
To expand the report to view spending from previous months as well, you can click on either Last Six Months or Fiscal Year to Date from the top of the screen.
Additional Notes
---
Option: Current Month
By default you can view only up to the previous month's ledgers. You can choose to view the current month's ledgers as well, which will give you an up to the minute look of your fund's spending. But be aware when viewing the balance that expenses do not immediately appear on the ledgers and many expenses, including salary, do not appear until the very end of the month. If you want to view the current month, let your fund manager know and they can make the change.
Option: Allocations
Allocating by a budget to sub-accounts is a helpful budgeting tool. It does not actually limit spending, it just makes it easier to track spending. The balance of each sub-account would quickly let you know if you are on track for spending in each category. And the allocations can be changed if needed. Let your fund manager know if you want to have your funds allocated by a budget.
Option: Indirect Costs
When equipment and other indirect cost exempt expenses occur differently than originally budgeted, the amount set aside for indirect costs will be off. Due to the complicated calculations and process to show a re-appropriation of the funds to direct costs, viewing the indirect costs in MyFunds may be confusing. Your fund manager will provide you with any indirect cost adjustments in a monthly report. If you want to view indirect costs in MyFunds, your fund manager can include them in your report.-