Psychology Senior Send-Off
The Senior Send-Off is an annual event for Psychology majors and minors, celebrating our students' academic achievement for the year. It gives students at all levels the opportunity to relax, interact with faculty and staff, and participate in activities and giveaways. Graduating seniors can pick up their graduation cords and other departmental swag.
The event is free and open to all Psychology majors and minors, regardless of their academic standing, as well as Psychology graduate students, postdocs, faculty, lecturers, and staff.  Cake, popcorn, and games will be available, and we expect a visit from a very special mascot as well!
Due to COVID-19 and in person gathering restrictions set forth by the university, Senior Send-Off 2021 has been canceled. 
We are working on other ways to recognize our students.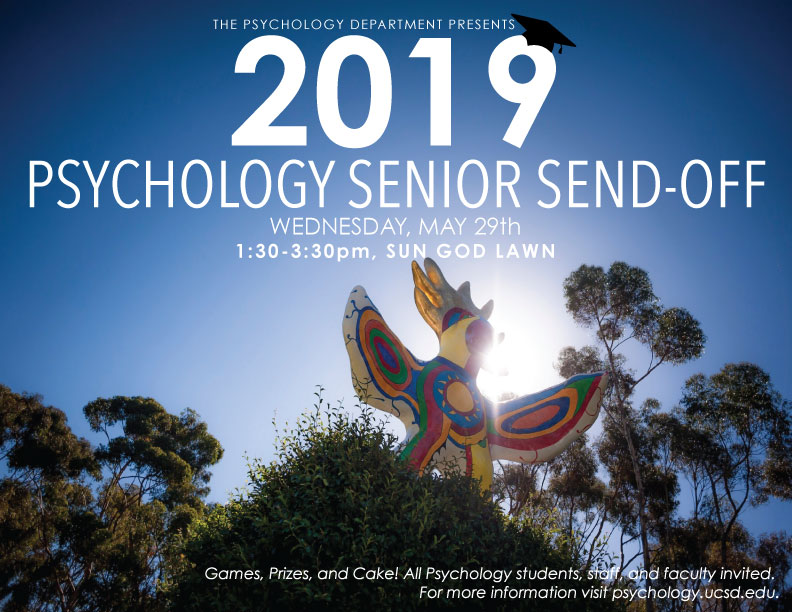 We invite you to challenge your Psychology professor to a game in our Inflatable World of Sports!  You'll get a certificate you can use to brag about your achievement!
 PPhotos by Yuchen Jasmine Wu
Some of our favorite photos from past Senior Send-Off events...
Photos by Yang Lu and Yuchen Jasmine Lu